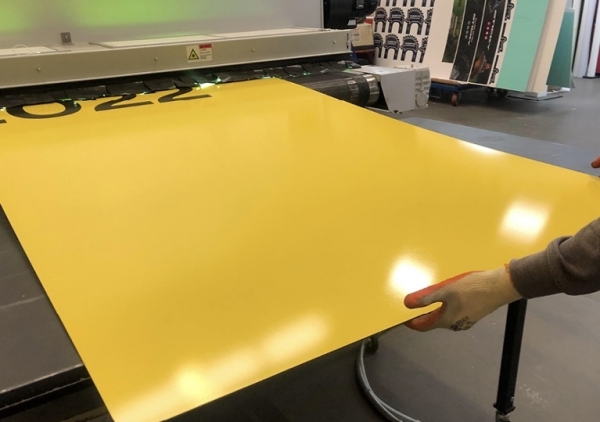 The arrival of a Bürkle LFC 2100 liquid laminator has enhanced Studio One's in-house finishing capabilities.
The Bürkle LFC 2100 UV liquid laminator coats almost any substrate with a range of premium protective finishes at speeds of up to 25 metres per minute, making it an ideal choice for large format print companies demanding a show stopping top-quality finish.
Studio One took delivery of the Bürkle LFC 2100 UV liquid laminator in August 2021 and haven't looked back. They have found the benefits of using the high-performance Bürkle LFC laminator over traditional film laminating methods are many.
Jon Sayers, managing director says: "We've found the speed of using the Bürkle liquid laminator to be a game-changer in terms of efficiency in liquid laminate finishing high volumes of hoarding and signage."
Not only is it the fastest in its field, working at speeds of up to 25 metres per minute, it has the ability to add high volume gloss and matt laminate coatings which enhance and add protection to large format digital prints on flexible and rigid materials up to 80 mm. The variety of base substrates is extensive; composite panels, cardboard, corrugated cardboard, foils, timber, correx, foam PVC and so on.The Bürkle LFC 2100 can apply primers to difficult to coat substrates like glass correx or melamine creating a high ink adhesion level that doesn't fail.
Studio One design and manufacture eye-catching printed graphic hoardings and signage for many industries including the construction, housing and property, industrial and retail sectors.
Depending on the graphics application and budget, their team of experts can now advise on the best laminate finish for their client's project.
The Bürkle LFC 2100 has enabled them to offer a variety of finishes as standard: Resist UV Gloss (economy anti-graffiti) – a matt finish is also available, Marashield UV RG X (branded anti-graffiti), POP Gloss RC Clear (economy gloss) and anti-slip.
Jon Sayers says clients are benefiting from the superior finish the Bürkle coatings provide which prevents water ingress and remove failure points that are regularly found with film laminates. "The gloss appearance is noticeably more premium, and the durability and level of protection is already being observed by customers, particularly clients in the property and construction sector who want to be able to easily clean i.e., hose down graphics during winter months to maintain a high standard of brand aesthetics on site"
After only 6 months it is already clear to say that the investment in the Bürkle has been an all-round success. The laminator was supplied and installed by Atech and after a short training session the machine operator quickly became confident and extremely busy in producing many metres of very impressive, protected graphics for signage and hoarding customers.
In a competitive market, the efficient and economic technology of the Bürkle has led to reduced costs which can be passed on to customers. Quality has improved and production is faster. It's fair to say it's been a win-win success story.
According to Jon; "Working with Atech has been a positive experience. We know if we need support or advice they are only a phone call away."